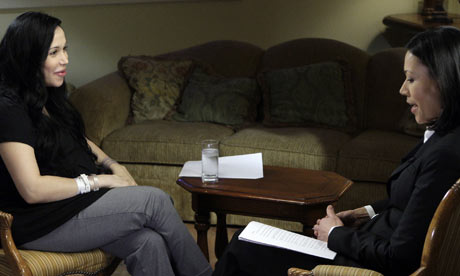 If there ever was a case to be made that the media is completely bias, it's the case of Nadya Suleman. I've never really fully bought the whole "liberal media bias" argument in the conservative world of conspiracies...but if you really think about it, let's consider the explosive coverage and negative attention turned on a woman who decided to opt for life for her children rather than selective reduction (abortion). Instead of choosing to discard of her remaining human embryos, she opted to have them implanted and raise them on her own. Yeah, I think she's on the crazy side too, but the issue at hand is really women's rights, isn't it?
Why is it that that media
crucifies
this girl, a mother who is pledging to attempt to raise her own children against significant and legitimate odds?
If they are so concerned about the innocent children involved, where is the uproar over the latest male serial whore (unfortunately an idealized standard for the American male) who has fathered multiple children he doesn't and never intended to provide for? Where is that provocative interview?
Why isn't the media pinpointing and attacking the woman who has had multiple elective abortions?
The media and leftist America hail themselves to be the progressives in "women's rights". Apparently, only in the case of
eliminating
life. As long as a woman is choosing to
destroy
the life she creates, she is allowed respect and privacy. It's her body, let her do whatever she feels is best...it isn't any of your business...it's between her and her doctor...isn't that what they claim?
But when a woman exercises that supposed right, and chooses to
keep
life?
Whoa, watch out.
What a shameful double standard. It sickens me.